This LCD TV Display Problem Can't Be Repair!
Model: Sharp LC-32L400M-BK LCD TV
Symptom: Display Problem but Sound and Backlight Ok.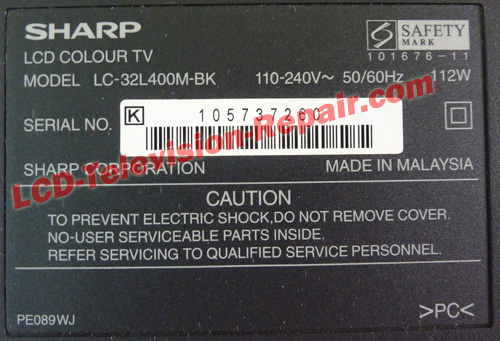 This Tv was brought from my repair friend. My friend's complaint this TV symptom is display problem and suspects the T-con board is defective. So he asks me to help him solve this tv problem. Below is the TV display problem: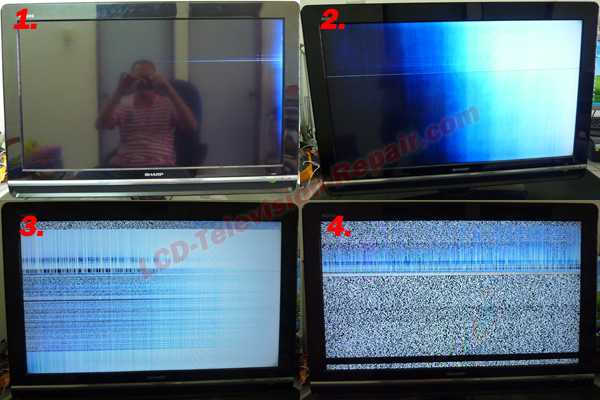 After saw this TV display symptom, from my experience so I can quickly judge this tv problem could be the T-con section or the lcd panel itself defective. After dismantle this TV, it was looks like this: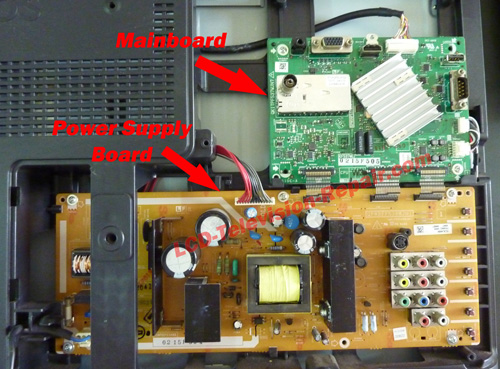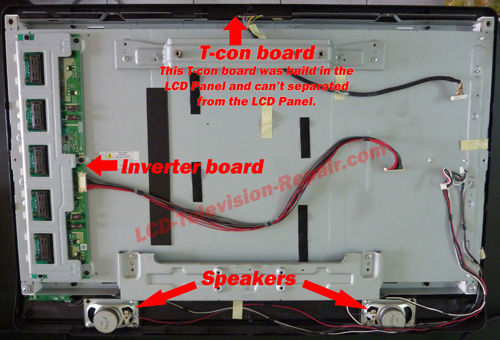 .
Since the LCD TV backlight lit, sound ok can be hear from the speakers and the Tv control buttons/keypad can be control, so suspect the problem is in the T-con board or lcd panel itself.
Because of this Tv T-con (Timing Control) section was build in the lcd panel Source Driver board there, so need to dismantle their lcd panel to checking the T-con section. Normally the Timing Control section is separated from the Panel to a board call T-CON board. If the T-con board, we can check their DC-DC voltages easily. But this Sharp lcd panel is different design, so most of the repairer when seen this type of lcd panel, they will just give up to repair and return back to the customer will lcd panel damage reason. If you have learn from my V3.0 LCD LED TV Repair Tips ebook (www.LCDRepairGuide.com), then you should know how to checking the T-con board or Timing Control section no wonder it is design in T-con board, LCD panel or in mainboard! You can use that knowledge to troubleshoot it. Below is the picture after dismantle this lcd panel: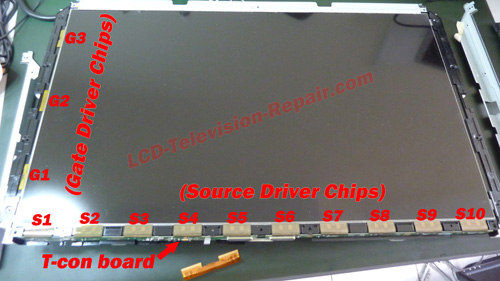 After dismantle the lcd panel, their looks like the above picture. This lcd panel have 10 x Source Driver chips and 3 x Gate Driver chips. Below picture is this lcd panel part number:

Removed the metal shield, here is the location of T-con board + Source Driver Board:

Connected the lcd panel with mainboard, inverter board and Power Supply board (PSU) to checking the T-con section voltages. All the Vcc input and top 5 voltages are ok.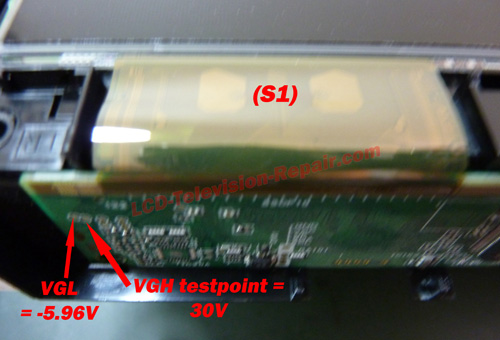 Because of these voltages normal, that's mean their T-con DC-DC section is working properly. But why the display problem still persists? When look at the display problem, it was starting from the right hand side and then slowly to full screen. From here, I will try to checking the Gate Driver chips first. Found that G1 was extremely hot when touching their surface of the chip. Compare to other two Gate Driver chips, their temperature are normal and can be accepted. So suspect this G1 Gate Driver chip is defective!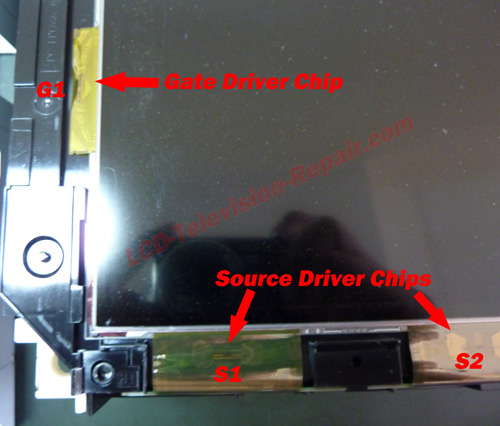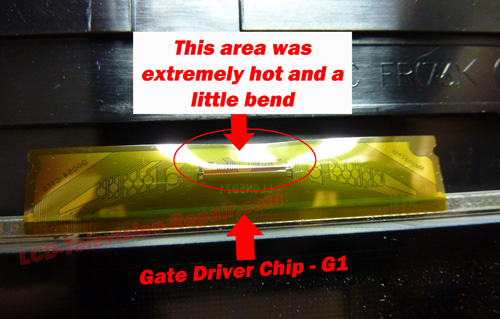 The G1 Gate Driver chip has a little bend near the IC chip and this area is extremely hot! When spray some Coolant on it, the screen can show the display now! But with the horizontal line and can't last long to hold it, and then back to same display symptom again. You can see the picture below: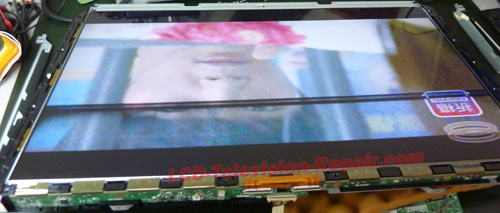 So this LCD TV problem can't be repair and I return it back to my friend and told him what's wrong about this Tv.
Conclusion: I can learn something from this repair case. Can this LCD Panel be repair! Actually the answer is YES! If you have this Gate Driver Chip part and have the TAB/COF machine, so this symptom can be repair and problem solve.
For more information on repair lcd tv, please click the button below to visit: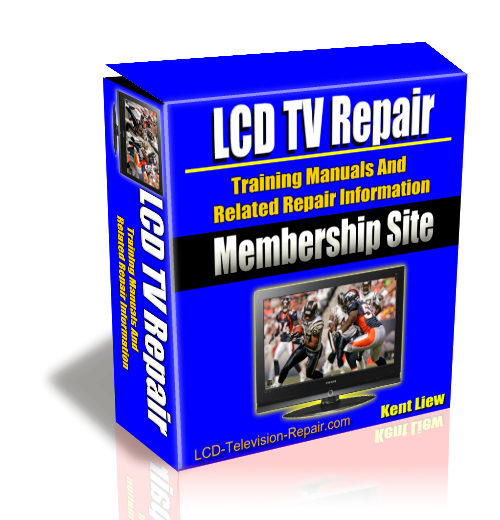 LCD TV Repair Membership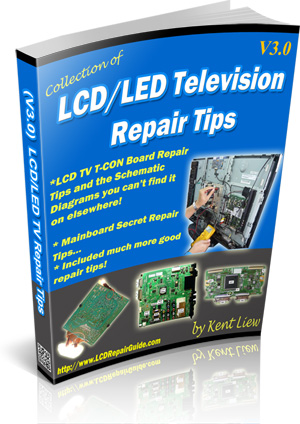 V3.0- LED & LCD TV Repair Tips ebook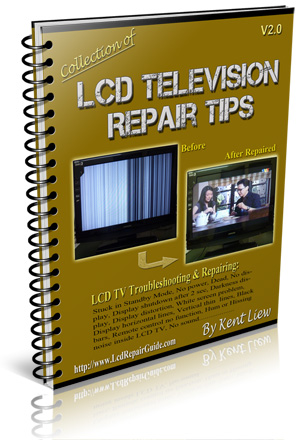 V2.0 - LCD & LED TV Repair Tips ebook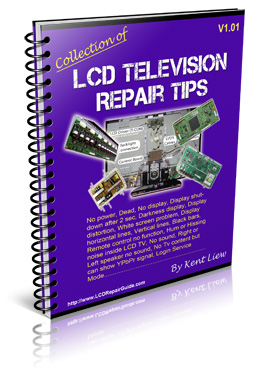 V1.01-Collection of LCD TV Repair Tips
Testing Electronic Components Ebookby Jestine Yong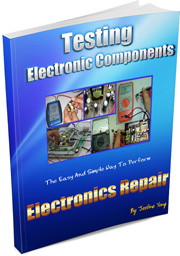 SMPS Power Supply Repair Guideby Jestine Yong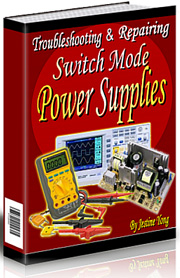 Enjoy Repair!
Kent Liew
http://www.LCD-Television-Repair.com
http://www.Plasma-Television-Repair.com
http://www.Projection-Tv-Repair.com